Service
M&A
---
M&A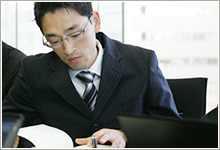 We provide due diligence and valuation services, as well as designing finance schemes with accounting and taxation perspectives.
---
Consulting on M&A
Merger and acquisition of companies (M&A) has many purposes, such as enhancing domestic and international competitiveness and business expansion, and the number of M&As, as well as the scale of acquisition is increasing every year. ?In Japan, M&A is practiced as one of the solutions of business successor issues among small and medium-sized enterprises.

Our Certified Public Accountants who have extensive experience in M&A, propose finance schemes, as well as assist our clients to conclude contracts and related accounting and tax treatment.
| | | |
| --- | --- | --- |
| 1. Comprehensive scheme | : | merger by absorption, consolidation, stock swap, and stock transfer |
| 2. Stock acquisition scheme | : | acquisition of outstanding stock, subscription of new stock, TOB, MBO, LBO, EBO, acquisition of business |
| 3. Split scheme | : | absorption-type company split, incorporation-type company split |
---
Consulting on corporate restructuring and organizational restructuring
The amendment of Companies Act gave more flexibility to organizational restructuring. The main amendments of Companies Act are: more flexibility in merger consideration (triangle merger, cash-out merger), simplified organizational restructuring, informal organizational restructuring, and accounting treatment regarding succession of subscription rights etc.

We assist our clients to conduct the smooth organizational restructuring by presenting the best method that suits their situation.
---
Consulting on corporate revitalization
If a company has excessive debt yet has competitiveness in its core business, it is possible to recover its competitive edge and revitalize its business by separating its core business from the unprofitable departments causing the excessive debt. ?Since legal system for business revitalization has been improving in the recent years, such as Corporate Split Law, Servicer Law, etc., there are many measures that can be taken before applying the Civil Rehabilitation Law and Corporate Rehabilitation Law.

We provide a one-stop service, managing everything from negotiating with financial institutions to proposing business revitalization scheme, with well experienced Certified Public Accountants, as well as lawyers and judicial scriveners from our alliance firms.
---
Due diligence
Prior to M&A, it is essential to fully understand the risks and true status of the target company.

We meet our clients' needs by providing a one-stop service, exercising efficient and effective due diligence regarding the target company's finance, tax, labor and legal matters, with our ample resources of Certified Public Accountants, Certified Public Tax Accountants, Certified Social Insurance and Labor Consultants and lawyers.
---
Valuation
To conduct M&A, the target company or its business operation must be evaluated.

In order to assess the target's share value as accurate as possible, our Certified Public Accountants and Certified Public Tax Accountants evaluate the target's corporate and business value, at the same time with conducting the financial due diligence.
---
---
---