Our Style
Service Concept
---
Service Concept
We at Global Corporate Consulting provide a one-stop consulting service, with resources including Certified Public Accountants, Certified Public Tax Accountants, and Certified Social Insurance and Labor Consultants, and other alliance partners such as law firms, judicial scrivener firms, real estate appraiser firms, etc.
For instance, regarding due diligence on M&A cases, we are able to identify various issues including not only accounting and taxation issues but also law, labor and real estate related issues.
In addition, one of our group companies provide human resources assisting services (staffing, outsourcing) enabling us to take comprehensive methods where consulting experts and outsourced staff closely work together to resolve various problems. It means, for instance, when our client is urgently in need of merger integration after M&A, we are able to provide staffing services to implement tasks according to solve issues which identified by our due diligence.
Our Style
Our main services are in the following format.
---
Regular Assisting Services
We devote sufficient time to listen to confirm our clients' needs, and consistently provide advice and supervision.
Case examples:
- Advisory service regarding organizational restructuring to design a group management organizational structure
- Consistent advisory service regarding accounting procedures and enhancing internal controls
- Consistent advisory service regarding transfer price taxation
- Advisory service regarding J-SOX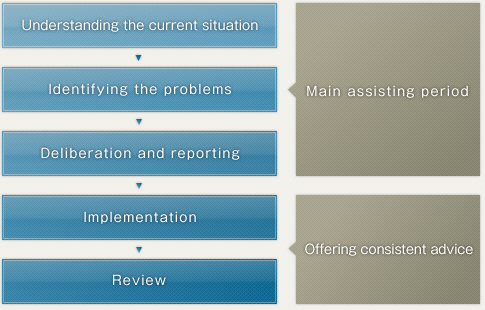 ---
Spot Services
We resolve clients' specific issues in short time.
Case examples:
- Financial due diligence, valuation
- MBO advisory service
- Advisory service for designing M&A scheme
- Assisting in establishment of incorporated foundation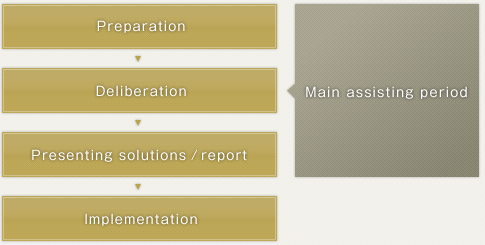 *After the spot support service, it is possible to continue provision of service through continued support.

---
---