Service
Medical Consulting
Home
> Medical Consulting
---
Medical Consulting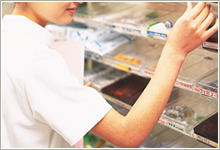 Assisting our clients to open their clinics, we meet their needs on human resources, material resources and financial resources. We have assisted more than 300 clinics to start their practice.Also, we provide a one-stop consulting service regarding accounting, tax, and labor issues after opening.
---
Assisting for opening of clinics
| | |
| --- | --- |
| [Human Resources]: | We act as a deputy office manager dealing with staff recruitment, teaching interview know-how, stand-in for interviews, as well as complicated administrative work such as various insurance issues regarding employment contract, etc. |
| [Material Resources]: | We assist our clients to improve management efficiency in relation to Medical Service Corporation, as well as to implement various systems including accounting, salary calculation, personnel evaluation, etc. |
| [Financial Resources]: | Our consultants from major banks prepare business plans including catchment area research and financial plans, and develop the best fund raising scheme. |
Consulting services on clinic operation
We help to create the best environment where doctors are able to focus on medical examination and treatment by undertaking all indirect tasks such as accounting, labor and personnel affairs.

We dispatch experienced consultants as deputy office managers to manage various tasks upon the needs.
---
Assisting in incorporation of a medical corporation
While models of medical corporations are diversifying due to recent amendments of Medical Service Law, we are able to present the benefits of incorporation with our unique scheme based on accumulated experience and know-how.

We provide the best proposal, including the aspects of tax benefits and business succession, through timely presenting various simulations based on each clinic's business condition, the family structure, the life plan, etc.
---
Consulting on MS (Medical Service) corporation management
We assist Medical Service Corporations to expand and diversify their existing business, and build new collaborations with clinics/medical corporations and other MS corporations.? We present proposals such as integration of flows of human, material, and financial resources into the new MS Corporations.
---
Consulting on corporate restructuring
We provide a one-stop consulting service regarding tax, labor, accounting and legal issues derived from corporate restructuring.
---
---
---